Welcome to our Wild Workout Wednesday link up! Each week I link up with Annmarie from The Fit Foodie Mama, Angelena Marie from  Angelena Marie: Happy, Healthy & Balanced, and Sarah at Creating Better Tomorrow  to bring you workout ideas, motivation, inspiration and recipes to try.  Join us for a wild workout each week by reading along or grab the button and link up if you have a fitness or healthy living post to share!
---
Life is busy (I know mine sure is!) and the pressure to get in all the workouts can be daunting. Your workout is only going to be as good as the time and effort you have to commit to it. What I discovered after having kids, is that quality workouts over the quantity of workouts actually resulted in me being in better shape than ever. So I wanted to share this action plan with 3 steps to make the most of your time.
1. Identify Your Priority
It's easy to get caught up in the hype.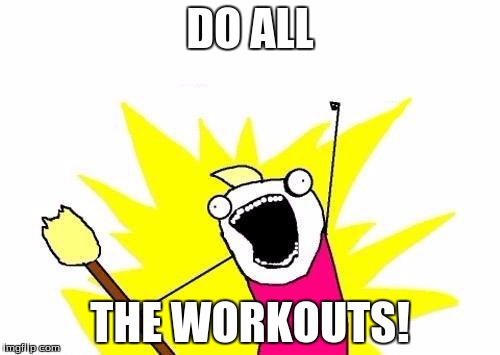 But having a goal can help you prioritize what workouts need to be done, versus what workouts are not exactly necessary at the time.
Ask yourself questions to figure out what your fitness priority is at the moment:
Am I training for a race? Am I trying to lose weight? Is my goal to strengthen my core? 
You get the idea. Focus on workouts that will help you reach your number 1 goal, and ignore (for now!) all the rest.
Personally, I have a marathon coming up, so that is my priority. If I can't fit in HIIT workouts or yoga, I have to accept that right now. As long as I get in my specific marathon training workouts, that is what matters right now at this point in my life.
2. Plan for Quality over Quantity
Some of the best training advise I ever received was that every workout should have a purpose. So with that in mind, just going for a run, or going for a bike is not a quality workout. (Unless of course that's actually the purpose of your workout!)
Each individual workout should have a specific goal. For example if you are training for a running event, you may want to use a plan that calls for a tempo workout, speed workout, and long run. If you are running 3 days per week, you have to make them count. Be sure to take specific actions to reach your goal in each individual workout. Never leave the door without a goal.
3. Accept Where You Are Right Now
Again, it's easy to get caught up. Running, HIIT, triathlons, yoga–the list goes on and on. But real life doesn't always let you do all the workouts, so work on true acceptance of where you are in life right now and know that the situation will change as life evolves.
Fitness should not be pressure, fitness should be fun! So take control back by prioritizing your goals and taking steps to help you reach them.
Do you get caught up trying to do all the workouts?
How many days a week do you workout?
Linkup below if you have a workout, fitness find or healthy recipe to share! Just make sure to link back or grab the badge and we will make sure to spread the inspiration around 🙂
Also linking up with Jill Conyers for Fitness Friday!